TED KEY is best known as the creator of HAZEL, the strong-willed but warm-hearted maid who debuted as a single-panel cartoon in The Saturday Evening Post in 1943 and was portrayed by Shirley Booth on television from 1961 to 1966. But the California-born cartoonist also wrote for radio, illustrated a line of motivational posters, authored and illustrated books, scripted a movie for The Walt Disney Co. and created the animated cartoon characters Peabody & Sherman for Jay Ward's ROCKY & BULLWINKLE SHOW...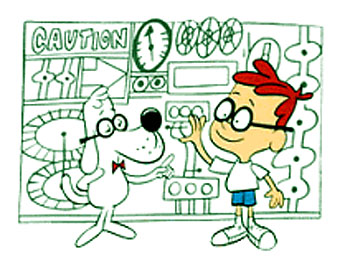 Born and raised in Fresno, Calif., Key graduated from the University of California at Berkeley in 1933 and moved to New York to try to sell his cartoons to magazines. By the late 1930s, Key was "possibly the most published gag cartoonist in America," Richard E. Marshall wrote in The World Encyclopedia of Cartoons. He was also a staff writer for the J. Walter Thompson advertising agency. In that capacity, he wrote the play, The Clinic, which was produced on one of NBC's radio networks and included in Max Wylie's anthology, Best Broadcasts of 1939-40.

Two weeks after he sold a cartoon about a maid to The Saturday Evening Post in 1943, the weekly magazine obtained sole rights to the character, which Key subsequently named Hazel. When The Post folded in 1969, King Features Syndicate began distributing the feature to newspapers, which it continues to do to this day. King Features also makes Hazel available on the Web at: http://kingfeatures.com/features/comics/hazel/about.htm.

Hazel cartoons have been collected in a dozen books, the first of which, simply titled Hazel, sold 500,000 copies in five printings for E.P. Dutton & Co. in 1946 and '47.

During Hazel's long run in The Post, Key continued selling other cartoons to that publication and other magazines, including Sports Illustrated, Collier's, Look, Good Housekeeping and Better Homes and Gardens. Three compilations of those cartoons were published by Dutton.

In the 1960s, Key also did a two-page cartoon chronicling the adventures of a brother and sister named Diz and Liz for Jack and Jill, a children's magazine put out by the publisher of The Post. A compilation of those cartoons was published by Wonder Books, as was a Diz and Liz book written by Key and illustrated by cartoonist Colin Allen.

By the time the Diz and Liz books were published in the mid-1960s, Key had written three other books. Two, So'm I and Phyllis, were illustrated by other cartoonists, Frank Owen and Shanks, respectively. The one Key illustrated himself, The Biggest Dog in the World, was later made into a movie called Digby, the Biggest Dog in the World, by Walter Shenson, who produced the Beatles' movies A Hard Day's Night and Help.

Key also directly contributed ideas to movies, selling three to Disney and writing the screenplay for one of them, The Cat from Outer Space (starring Roddy McDowall). When the feature was released in 1978, Key turned it into a novel that was published in Japanese as well as English.

Although Hazel was Key's best-known creation for much of her 60-year-plus existence, today that honor probably goes to two characters he came up with for a childhood friend and UC Berkeley classmate of his brother, Leonard. In the late 1950s, Jay Ward was trying to get the go-ahead to do an animated TV show centered on two characters created by Alex Anderson: a flying squirrel named Rocky and a moose named Bullwinkle. Ward needed other characters to make the show a full half hour long. To help him, Key created a time-traveling dog scientist and his faithful boy. Peabody and Sherman appeared in two shows of Ward's, Rocky and His Friends and The Bullwinkle Show, which have been shown on TV many times since they first aired from 1959 to 1964. Despite creating Peabody and Sherman, Key never wrote for the shows.

During his career, Key also did work for many corporate clients. He illustrated magazine ads, booklets on dog training for the maker of Ken-L® brand dog food and on highway accident data for The Travelers Insurance Cos., and a billboard campaign for Pure Oil Co., among other things. A discussion with a neighbor at a party led the two to create a line of sales-advice pamphlets illustrated with Key's cartoons. Each pamphlet was called A Sales Bullet and the line was published biweekly by The Economics Press Inc. in the 1950s and 1960s. Its success led to a line of motivational posters called Positive Attitude Posters, which consisted of short pieces of advice that Key illustrated with cartoons featuring children. That was published biweekly by The Economics Press from the 1960s into the 1980s.

Key's books are out of print, although they frequently turn up on eBay, along with magazine ads he illustrated and original artwork by him. The movies he sold to Disney -- Gus (starring Don Knotts), The Million Dollar Duck (starring Sandy Duncan), and The Cat from Outer Space (starring Roddy McDowall) -- are now available to a new generation on DVD, as is the first full season of the HAZEL TV shows.

A collection of Key's work can be found at the Special Collections Research Center of the Syracuse University Library. The Ted Key papers contain artwork, manuscripts, fan mail and memorabilia from 1942 to 1977 and cover 23 linear feet. For more information about them, visit: http://library.syr.edu/digital/exhibits/c/cartoonists/key.htm. The Ohio State University Cartoon Research Library also has some cartoons by him.